Come see the world's only twice-daily cattle drive.
Explore the authentic Wild West history of the Stockyards.
As a drover headed cattle up the Chisholm Trail to the railheads, he had one last stop for rest and supplies: Fort Worth, Texas.
Beyond Fort Worth, he'd be crossing the Red River into Indian Territory.
Between 1866 and 1890, drovers trailed more than four million head of cattle through Fort Worth. The city soon became known as "Cowtown."
From live music to live rodeo, there's plenty to entertain your herd.
We've got whatever you've got a hankering for.
Fort Worth is where the West begins, and nothing embodies Western heritage better than the Fort Worth Stockyards National Historic District. From the original brick walkways to the wooden corrals, every inch of the Stockyards tells the true history of Texas's famous livestock industry. Watch a sneak peak >
The Fort Worth Herd is the world's only twice daily cattle drive, held every day at 11:30 AM & 4:00 PM in the Fort Worth Stockyards.  See more…
Visit the Amon Carter Museum of American Art
   Admission to the museum is free.
Tuesday, Wednesday, Friday, Saturday: 10 a.m.–5 p.m.Thursday: 10 a.m.–8 p.m.Sunday: Noon–5 p.m. Closed Mondays and major holidays, including New Year's Day, Independence Day, Thanksgiving, and Christmas.
Wednesday: 11 a.m.–4 p.m.Thursday: 11 a.m.–7 p.m.Friday: 11 a.m.–4 p.m.Saturday: 11 a.m.–4 p.m., September through May
Blue Star Museum
The Amon Carter Museum of American Art is honored to participate in the 2016 Blue Star Museums Program. Because admission is always free to the Amon Carter's permanent collection and special exhibitions, active and retired military families will receive a complimentary souvenir collection catalogue during their museum visit between Memorial Day and Labor Day. To receive your gift, simply present your military ID to a Visitor Services Representative at the museum's Information Desk. For more information about the Amon Carter's participation in the Blue Star Museums Program ……….read more at cartermuseum.org
The World's Largest Honky Tonk – Billy Bob's Texas
Merle Haggard made the Guinness Book of World Records for buying the largest round of drinks when he bought 5,095 drinks of Canadian Club for the entire club.  The bill totaled $12,737.50 and equaled 40 gallons of whiskey.
More Than 17 Million Visitors have come through Billy Bob's Doors since 1981.  With it's international notoriety, the club sees visitors from around the world.  Billy Bob's truly has carved a niche in the world of country music and entertainment……….Via billybobstexas.com 
Fort Worth Botanical Garden
Gardens — Fort Worth Botanic Garden
If you are visiting Fort Worth or even if you live here, We at RBC Roofing strongly recommend the oldest Botanical garden in Texas. 110 acres and 22 specialized Gardens.
The Main Garden's are free to see all gardens and get more info go to….Gardens — Fort Worth Botanic Garden
Fort Worth Museum of Science and History
Innovation Studios      Noble Planetarium       About Us   read more at fwmuseum.org       Plan Your Visit
Fort Worth Museum School      The Fort Worth Museum of Science and History provides hundreds of programs aimed at engaging children and families in learning.
Fort Worth Water Gardens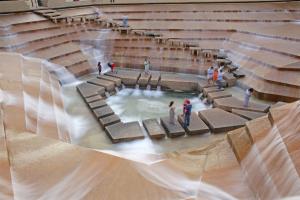 The Fort Worth Water Gardens is a beautiful and refreshing oasis adjacent to the Fort Worth Convention Center. Designed by Phillip Johnson, the Fort Worth Water Gardens is an architectural and engineering marvel to be enjoyed any time of the year. Visitors can experience a variety of water features as they wander through this relaxing urban park……read more at fortworth.com
More About Fort Worth
Find out what makes Fort Worth, Texas unique.Fort Worth has exciting and unique attractions to make your next vacation memorable. The 16th-largest city and still growing rapidly, Fort Worth is a destination redefined. New and renovated hotel offerings, restaurants and exciting tourism attractions are enhancing the City's reputation as one of the premier travel destinations in the nation.
About Fort Worth – Learn about the Fort Worth area
Well I Hope that's enough to get you started on dicovering some of the great things in and around the Fort Worth area!
Please Remember that if you live in the area and need any of our services at RBC Roofing please give us a
call at  817-360- 2505